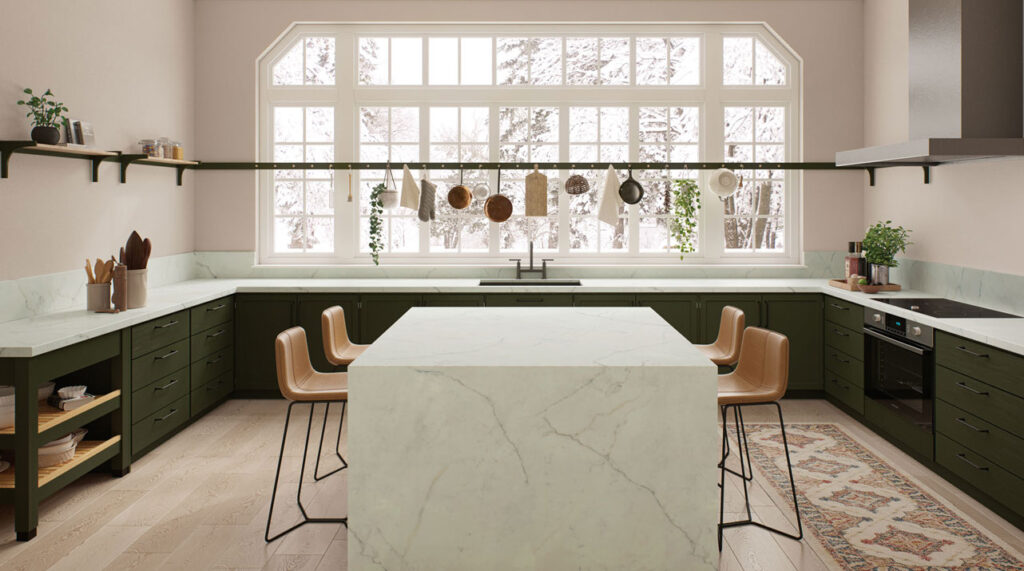 There is so much to consider when deciding upon your perfect kitchen, from flooring to wall colours, to accessories and cabinets. Worktops are no exception to this and are a focal piece in most kitchens, so getting the style and material just right is crucial to creating the kitchen you've always dreamed of. Quartz and porcelain both have advantageous elements and features, proving a popular choice for many kitchen designs, but which is right for you?
Benefits of porcelain and quartz worktops
There is an abundance of benefits for both porcelain and quartz worktops that can help create your perfect kitchen design.
Design
Do you have a specific design idea that will complete your dream kitchen look? Both quartz and porcelain come in a variety of colours, finishes and designs, you will be spoilt for choice.
Since 1987, Caesarstone have been pioneering the stone surface sector with cutting-edge technology and innovative yet timeless designs. We've poured our years of experience along with care and dedication into all of our surfaces to empower you with more design freedom.
Caesarstone's extended Supernatural Collection combines nature's spirit with the improved durability and performance of porcelain and quartz surfaces, such as 540 Monumental, a striking toned grey porcelain surface, and 6338 Woodlands a dark-chocolate quartz surface with bold yet graceful earthy veining.
Caesarstone's Metropolitan Collection offers both porcelain and quartz surfaces. Whether you're looking for a darker surface to present a bold and uncompromising style or you're after a more natural, textured look to suit an industrial look, you'll find a work surface that is the perfect feature for your home. The stunning porcelain worktop, 413 White Ciment, gives a cloud-like illusion that boasts an industrial aesthetic. Or if you're looking for something on the darker side, why not take a peek at 5810 Black Tempal, a quartz surface the offers a complex composition capturing the feel of a starry night touching water.
Durability
Both porcelain and quartz countertops are very durable and high quality, which is a must to keep up with the demands of modern life. Whether your kitchen counters are used for meal preparation, the children's craft table or a place to gather for evening entertainment, then strength and resistance are crucial for a long-lasting and hard-wearing surface.
Both surfaces are resistant to stains and scratches, making them suitable for family households. Whilst quartz surfaces are moderately heat resistant, porcelain is even more so, however, to ensure the lifelong beauty of any Caesarstone worktop, we still recommend using heat-safe barriers such as trivets.
Hygiene
In kitchens and bathrooms especially, practicing good hygiene is essential. Both types of surfaces are non-porous, meaning that no moisture should be absorbed, preventing any bacterial growth. Simply use a disinfectant and wipe away any germs, the ideal solution for busy households and those with children. These low maintenance options make cleaning a breeze, saving both precious time and effort.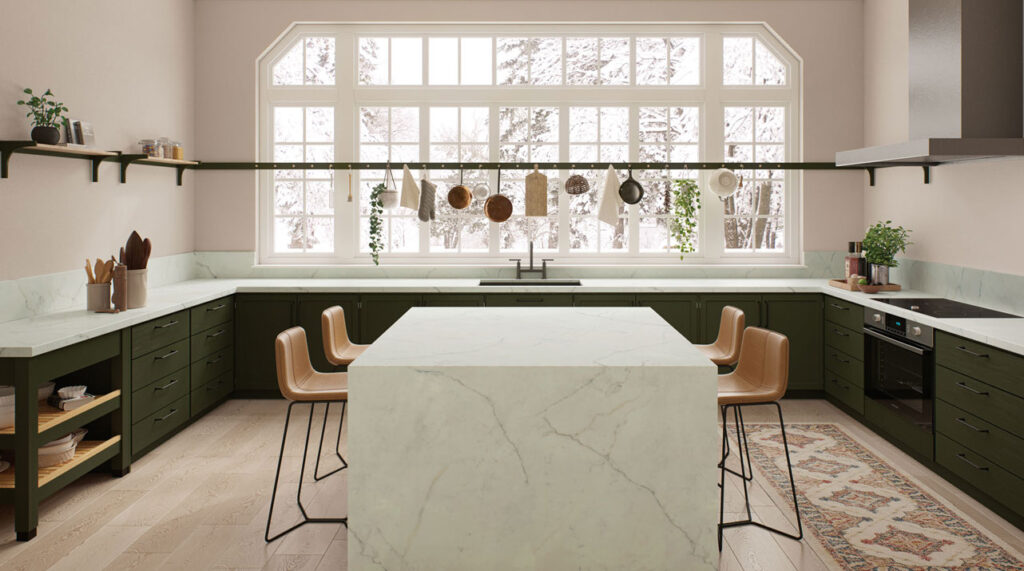 UV resistance
Porcelain is resistant to the sun's UV rays, meaning that the sun will not discolour or fade the worktop. Therefore, if you have or want your surface near a window, or you're thinking of enhancing your outdoor space, you will have peace of mind in knowing the quality will not be impacted.
We have also created a range of quartz surfaces specifically designed for the outdoors. The Outdoor Collection offers reliability and peace of mind for those wanting to dine al fresco this summer. These surfaces are resistant to harsh sunlight and protected from being affected by variable temperatures, making them an excellent choice for outdoor settings.

Which surface is right for you?
Quartz and porcelain are both growing in popularity and for good reason as both surfaces have many advantages, so you can rest assured that any surface from Caesarstone is dependable and beautiful, and will make the perfect centrepiece of your kitchen.
No matter which you choose, both materials will last for many years to come and look just as beautiful as the day they were fitted. The variety of designs, finishes and colours for both porcelain and quartz means you can design your kitchen exactly how you want it. So, with a Caesarstone worktop, you will be one step closer to creating your dream kitchen.
Explore Caesarstone's porcelain surfaces.