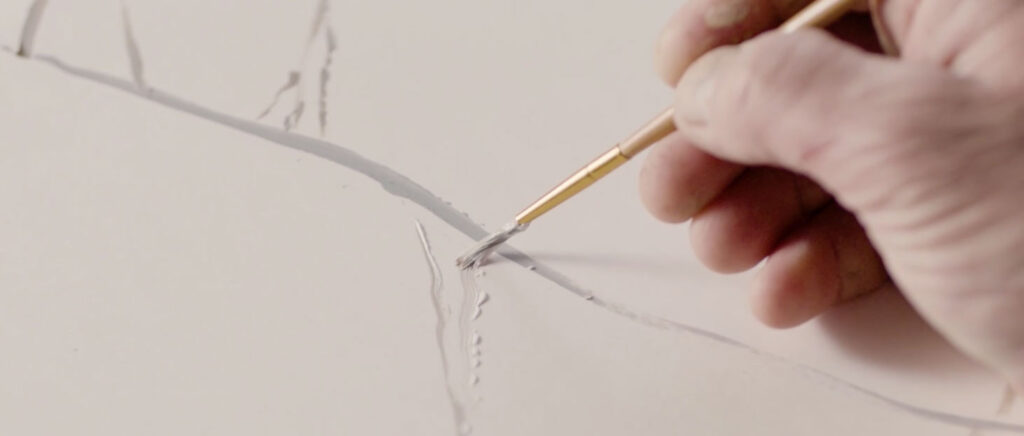 Serene or bold, classic or sophisticated, with a natural or industrial look: no matter what your preferred style, there is a surface here just for you. Caesarstone's new Porcelain Collection reinvents kitchen countertops for a new era, with deeper tones, oversized patterns, and extraordinary textures.
Pioneers of the quartz worktop category, Caesarstone announced their intention to move into the porcelain surfaces market back in August 2020. What followed was an intensive design and manufacturing programme spanning almost two years, as internal teams from design, R&D, and manufacturing focused more than three decades of stone surfaces experience into the creation of the brand's inaugural porcelain collection. Caesarstone is internationally recognised for its design prowess and regarded for consistently responding to consumer demands, creating the most design-led surfaces on the market in an unparalleled array of colours, textures, and patterns. Here are some of our most popular designs:
505 Archetta has an ivory base, effortlessly conveying a natural stone look in a sophisticated porcelain surface. This model is distinguished by its delicate gray veining and accents that blend with light yellow and green tones, adding depth and authenticity to the surface. Blending well with interior designs that highlight a bright or natural color palette, this model fills the kitchen with light.
When developing this model, the primary challenge was in striking a balance so that the surface would neither be too subdued nor too wildly contrasting. This entailed introducing the color dimension – united shades of green and yellow – in a measured, refined, and delicate way that can be lived with and enjoyed over the long term. Archetta is also a unique model among Caesarstone's sustainable surfaces, as it is perfectly in keeping with the recent trend toward green and blue-toned kitchens. Thanks to its combination of undertones that harmoniously complement these colors, the surface accentuates and enhances the look of the entire kitchen.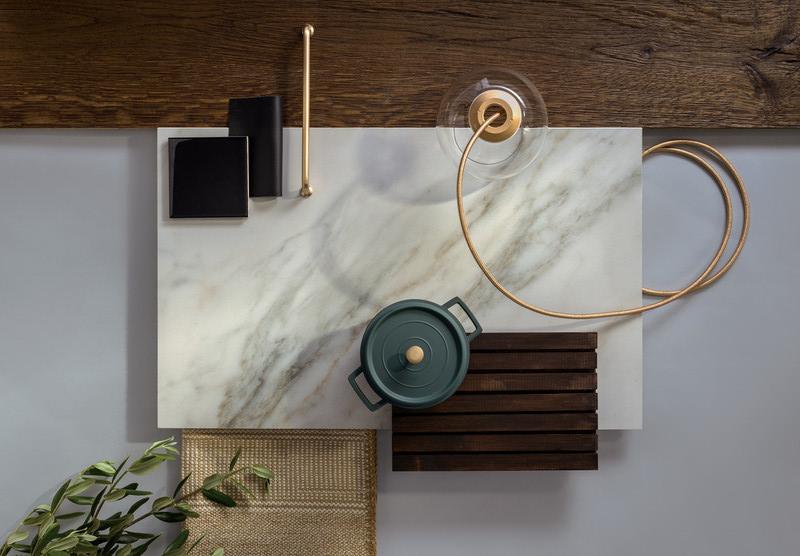 Crystalline materials are formed from scorching hot magma, often crackling when their gases and liquids meet. This marbling effect is captured in 580 Fume: its cream veins on a beige base and honed finish follow the murky inclusions in genuine opaque minerals. Frothy in its overall look, bringing a richness and soft depth to spaces; suited to both high-end residential areas and public lobbies alike.
Fume has a classic allure, feeling luxurious in kitchens and bathrooms; especially when finished with brushed gold hardware. In hospitality it uplifts bars and spaces, setting the scene for comforting seating, wooden furniture and neutral-tinted rugs. The energetic vibe of Fume makes it perfect for spas and wellness, where crystals are often used to reverberate energy. At the outdoor it recalls shells and mother of pearl, making it interesting when used at beachside sites near the coast.
Some of today's most contemporary ideas take inspiration from the distant past. A new generation of creatives is turning back time to rediscover archaic aesthetics for future architecture, design, food and fashion. Materials and colours reflect this trend, from organic dyes to oxidised patinas. Like a fossilised slab sliced directly out of history, 513 Striata is a porcelain that embodies ancient qualities for a new age.
513 Striata's complex structure takes shape through fine dark veins gathered in the centre, with more prominent lines in other parts emphasized by rusted deposits. A smoky grey base appears to be smudged over millennia, with white chalk streaks and burnt orange discolouring adding authentic dimension. Weathered like rock and available in an Ultra Rough finish, this geological landscape comes to life as a counter, backsplash or island. A warm colour that is a dramatic statement in dark or neutral interiors, complementing the raw beauty of walnut woodgrain and industrial metal finishes. Its earthy presence captivates the eye, accented by brushed gold or copper hardware and a muddy palette of clay hues.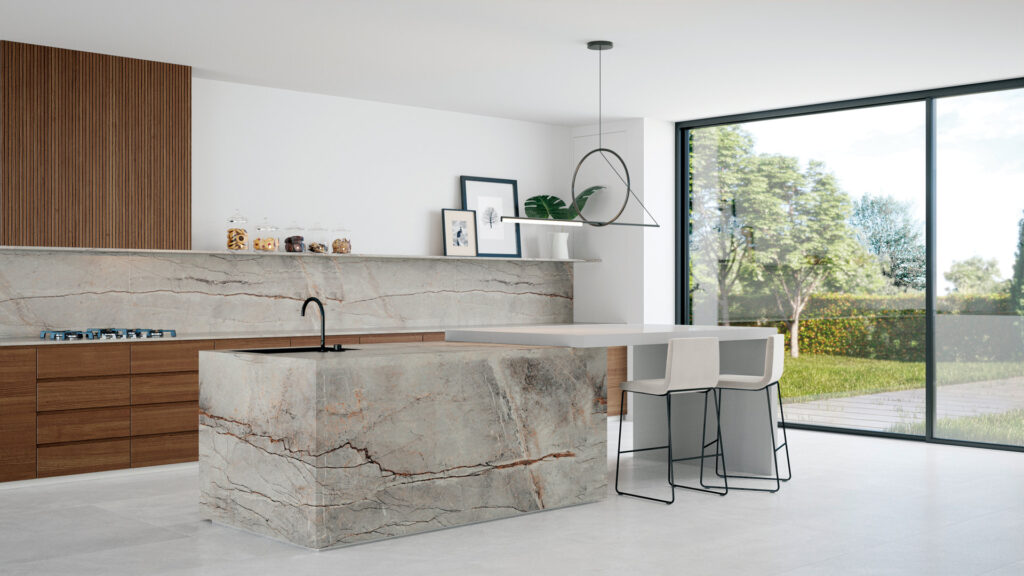 411 Concrita is notable for its industrial concrete look, as well as its coarse, raw texture that can really be felt, inspired by dark concrete mixed with hints of natural stone. The uniqueness of this model lies in its rough finish, which expresses a raw industrial feel while still retaining the superior properties of this material, including excellent usability and ease of cleaning. This clearly illustrates the advantages that come from a successful fusion of product appearance and functionality.
The surface's ultimate pattern imbues it with a deep, soft, look that is especially appropriate to a home kitchen environment, offering the best qualities of concrete without being too hard on the eye. As a result, this sustainable surface is very flexible in terms of applications, suiting private living spaces for urban homeowners not afraid to introduce an edgy design to their residence, in combination with architectural features, as well as offering a fashionable choice for use in hospitality or commercial spaces.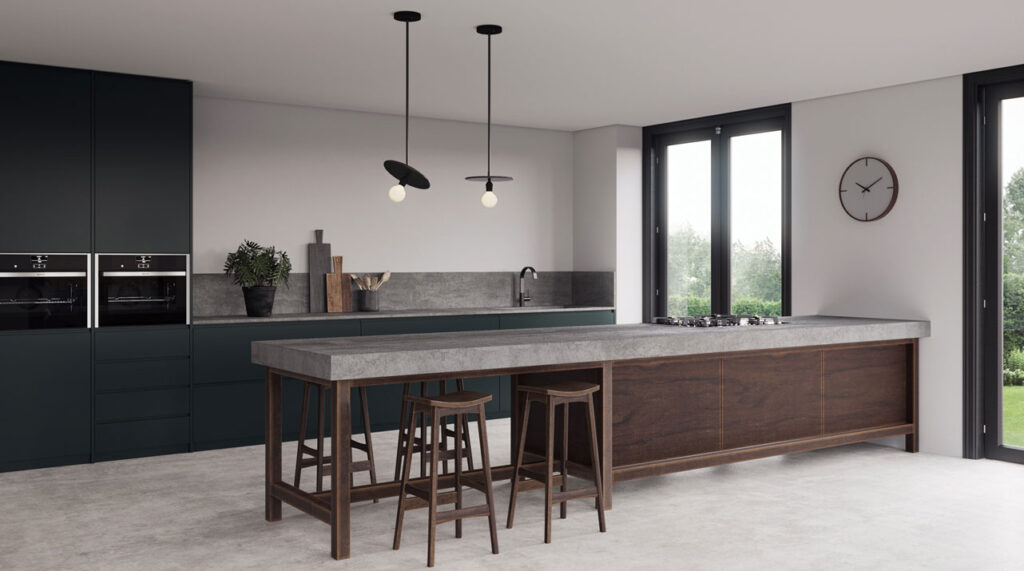 Premium homes and hospitality interiors are embracing a shift towards iconic marbles in sophisticated dark colours. Moody kitchens and bars position the stone as the centre of attention, celebrating the powerful presence of nature. Inspired by the dynamic magic of Nero Marquina, 511 Smokestone embodies this trend for black by reimagining it as a superior porcelain.
White chalk lines strike like lightning across Smokestone's midnight body, adding both dimension and direction to this unforgettable design that comes in a tactile Ultra Rough finish. Finer veins move into the background of its emotional black base, layered with earthy impurities just like the textures that evolve over time in nature. All this visual drama is matched by high-end accessories like gold or brass hardware, walnut cabinets and hardwood floors. As a versatile colour, it can be used in monochrome for dark kitchen palettes or contrasted by lighter neutrals and browns. Smokestone becomes traditional again when used against white tiles and wainscoted cabinetry, accented by black handles and lighting. Slate is a complementary tile that is also making a comeback.