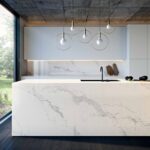 Modern design as a whole tends to adhere to the motto "form follows function", where a shape primarily relates to its intended purpose. It maximises straight lines and minimal decor to create an uncomplicated look that balances material, volume, and shape. Clean and simplified, modern kitchen design is characterised by the reserved use of decorative elements with a preference for practical items, which actually lends itself well to smaller spaces.
Those with a larger canvas for creating their personalised modern kitchen design are often at an advantage, whereas, those with smaller spaces can sometimes feel limited in their capacity to construct their dream kitchen. But fear not as modernity can find its way into even the smallest of places with just a few tweaks and additions to help update your space. The trick to this particular design is to keep things simple, light, and bright, whilst also maximising the use of modern fixtures, fittings and accessories to create the perfect small modern kitchen.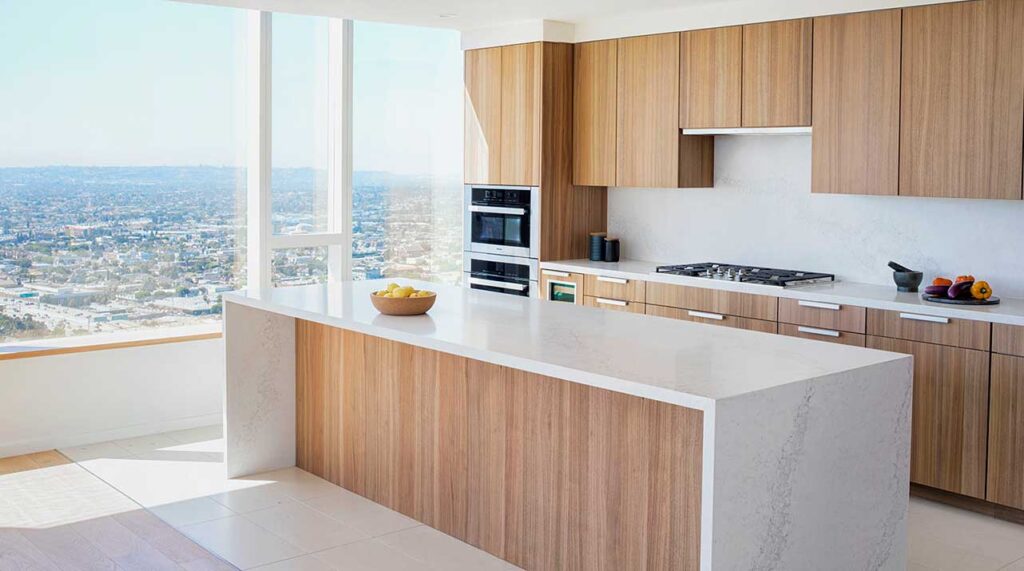 Photographer: Hunter Kerhart | Architect: JG Neukomm Architecture HED Genslet SPAN Architecture
Lights and mirrors
Depending on how much natural light you have coming into your kitchen, adding more in the form of contemporary wall lights or modern ceiling fixtures can help brighten the space and make it feel bigger and more modern. Try to avoid too many standing or table lamps, as this can add clutter to the space making it feel more compact. Under-the-cabinet or shelf lighting can also help increase brightness, whilst leaving your worktops clear and clean.
The addition of mirrors in and around your kitchen can trick the eye and create the illusion of more space within the room, making it appear larger than it actually is. Try adding a large mirror to one wall and a few smaller mirrors on the opposing wall to add depth to your kitchen. Working in tandem with the additional lights, these mirrors can help illuminate your space further, as the light reflects around the room, brightening each corner.
Modern colour schemes
Many opt for a luxurious dark colour scheme for their modern kitchen, and this can look gorgeous in the right setting. However, these kinds of colours can reduce the feeling of spaciousness, making a smaller kitchen feel a little 'closed in'. Choosing modern colours with lighter tones not only widens the space but also brings a sense of tranquillity to one of the busiest rooms in the home.
Colours such as white, beige, taupe, and even light blues and greens can add a bright yet calming feel to the room without taking anything away from the size of the space. An added benefit to using such a colour scheme is that it will be very easy to match it with the rest of your kitchen as this versatile palette can complement a wide range of tones, textures and materials.
Worktops and backsplashes
Another way to modernise your small kitchen is to update your worktop and backsplash. The heart of the kitchen can be the star of the show, but only if you let it shine. Caesarstone offers a wide range of bright modern worktops that look great in any setting without compromising on quality or durability. If you were looking for a concrete worktop for your modern kitchen but are unsure as to whether or not the material itself is practical enough for your kitchen, 4001 Fresh Concrete or 4044 Airy Concrete are both beautiful, strong quartz worktops that will look the part and last a lifetime.

Another tip to expanding the look of your smaller kitchen is to blend your worktop, backsplash and even your island together with one material to create a modern waterfall effect. These blended surfaces are not only a solid foundation for your kitchen but will also create a unified flow throughout your space which will add a contemporary feel to the room. Opting for a pearl-white porcelain worktop, like 504 Lumena with its dark grey veining that rushes over its illuminated shell-like surface, will create a calming beam of light in the centre of your kitchen.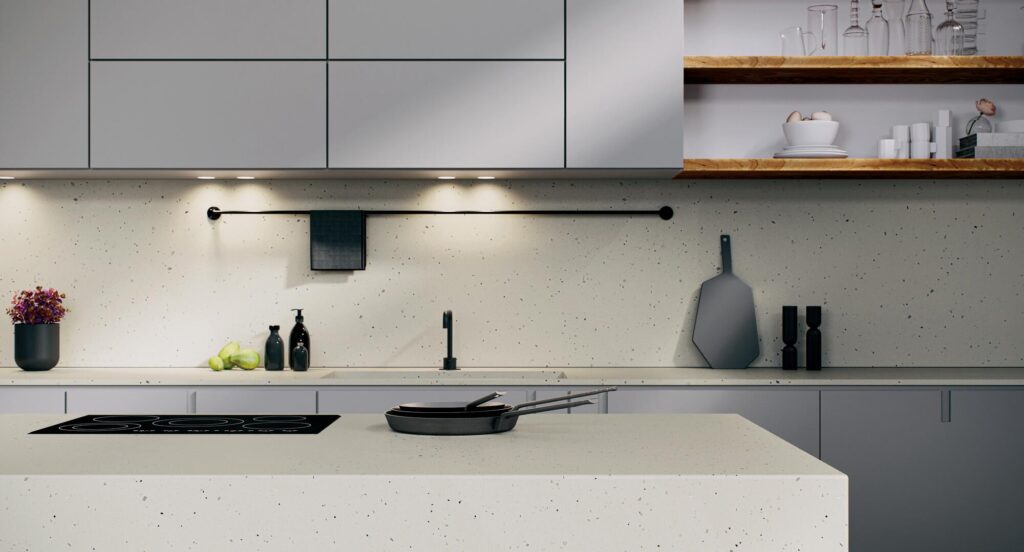 Innovative technology
Lastly, you can't have a modern kitchen without a few contemporary accessories, however, remember the aim is not to clutter the space. So, a great method to combine these two elements is to find smart ways to conceal your modern accessories and utensils. For example, a sliding rack for your pots and pans ensures they're cleanly tucked away but also easily accessible. Pop-out plugs are an innovative way to charge your kitchen accessories or phones and tablets, and when you're done, all you need to do is pop the plugs back down into the worktop so you don't spoil the seamlessness of your state-of-the-art kitchen design.
You can also opt for high-tech 3-in-1 accessories that can perform multiple actions and therefore reduce the number of machines taking up space in your kitchen. Some even take this a step further by installing an appliance hatch to keep your kitchen tech hidden away until you're ready to use them.
Now that you've read our top tips for creating a modern design within a smaller space, you have all the tools you need to create your dream kitchen, no matter the size.