Concrete kitchen countertops provide a stunning look that suits many modern designs and can even provide a contemporary twist for those with more traditional kitchen spaces. This material offers a distinctive and robust look, so there's no wonder it's in high demand for people's homes. But did you know it's actually not the most suitable surface for your kitchen?
Like other natural materials, concrete admittedly has its drawbacks, and although it looks great, it may not be the best material for your worktop, but that doesn't mean you have to change your whole kitchen design. For those interested in concrete worktops, you no longer have to sacrifice practicality for aesthetics…
The highlights and challenges of concrete
Concrete can be used to showcase a dynamic utilitarian style or it can be softened with a range of colours and textures to give a more industrial-chic feel to your space. It's a great way to flip modern and traditional kitchen designs on their head and create a stunning hybrid look that suits your style and personality exactly. However, although concrete is fairly strong, it's not completely resistant to cracks, chips, scratches, and other daily damage that could occur in your kitchen. So opting for other materials such as porcelain or quartz can eliminate this issue and others whilst still allowing you to achieve your desired concrete aesthetic.
Not many are aware but concrete is porous, meaning those little day-to-day spills are absorbed and can increase the rate of bacteria growth if the surface is not properly sealed. Not only that but due to the weight of concrete worktops, extra stress can be placed on flooring and cabinets if the proper supports are not installed. One other disadvantage of concrete is its cost, contrary to what people may initially believe, both the material and installation can be expensive. Due to these challenges, it's clear that this material is particularly high maintenance and may not be right for everyone.
Alternative materials that allow you to achieve a concrete aesthetic
With the above in mind, you can still achieve your dream urban-themed kitchen with a concrete surface by opting for a different material. Both porcelain and quartz provide all of the qualities for a low-maintenance kitchen but with the added benefit of limitless design. You can rest assured that your surface will stand the test of time whilst achieving the design you want.
No one wants to install a costly countertop, only to discover that the material may not be future-proof. With porcelain and quartz, you will be given peace of mind knowing that they are non-porous and stain-resistant, meaning you can worry less about any accidental spills. 302 Metallio Black provides a graphite tone base, with a mist-like smoky patina flowing throughout. This surface highlights its industrial background with a honed finish and an intense and daring look.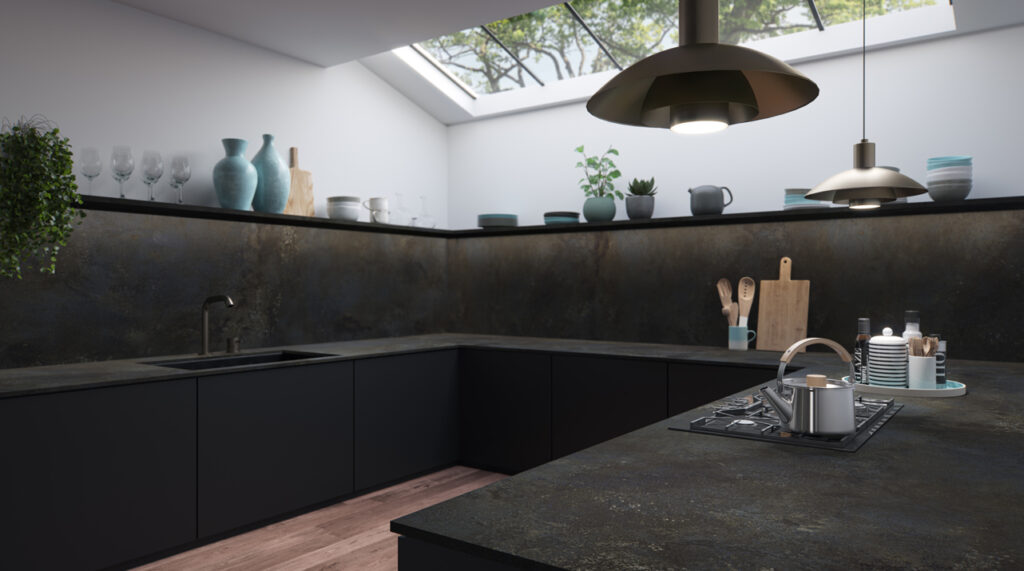 Styling your kitchen around a concrete-effect worktop
When styling your kitchen with a concrete-effect countertop at the centre, be mindful of your options. Although they match a range of styles and designs, certain styles of concrete can be a bold choice so it's important to consider the other elements of your kitchen such as the flooring, lighting, colour scheme, cabinets and of course, accessories.
For those who favour a bold, statement design, focus on the dark industrial look with pops of contrasting colours such as white cabinetry or walls for a unique feel. 4033 Rugged Concrete, part of the Metropolitan Collection, boasts dramatic gradients of robust concrete greys flushed with white-haze patinas and industrial-inspired imperfections that are accentuated by a deep textured finish. Why not play with more daring patterns in accessories and wall art to compliment the focal point of this worktop?
411 Concrita provides a sleek industrialised look, incorporating the feel of concrete mixed with features of rugged stone in a range of shades of grey. Add wooden features to compliment your concrete worktops such as oak cabinets or flooring. This will create a more rustic and earthy atmosphere, providing a serene space to spend time with loved ones.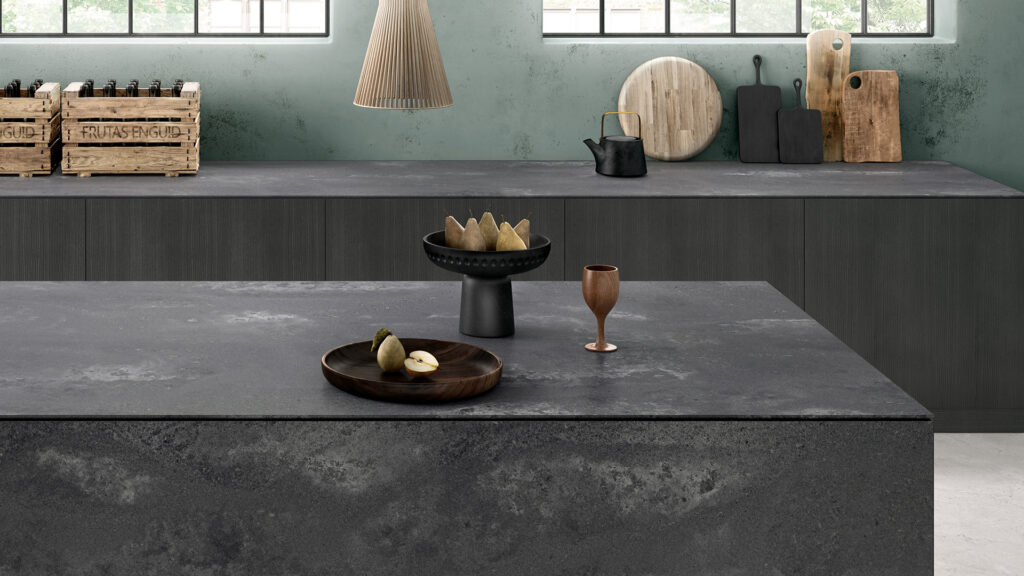 For a sleek, industrial feel to your kitchen design, concrete kitchen countertops could be the perfect addition to your home. Not only is it aesthetically pleasing, but choosing a concrete-looking porcelain or quartz worktop will mean it's durable and future-proof. Whether your kitchen is the central point for entertaining or relaxing, your surface is destined to be a head-turner.