 Mineral

Classico

Polished

Standard

Low silica
Two layers of slate-greys are accentuated by soft dark grey strokes contoured in neutral highlights, with a Polished finish that makes the surface look like a wet river stone.
Caesarstone Mineral™ are innovative, sustainable surfaces formulated with a unique blend of natural minerals and recycled materials for superior durability and aesthetic appeal.
Contains less
than 40%
Crystalline Silica
Since our products are manufactured from natural materials, which may cause variations/range in appearance, our images are merely representative and may vary from the actual surface.
Therefore, we strongly recommend that you view the design in person.
Gallery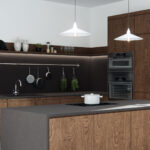 Discover the Pebbles Collection
Size
Standard - 1440mm x 3040mm (nominal)
To optimise your design, your surface's edge profile can be custom-designed by a stone fabricator in various thicknesses.
Please consult with your local stone fabricator, as not all edges are available in all areas, and additional options may be available in your location.
A wide variety of single-thickness edge profiles can be created in Porcelain colours. These finishes expose the body of the slab, which differs in colour and design from the slab's surface.
Double Bevel
It is recommended to soften the top and bottom of the edge.
Suitable for Quartz
Bevel
It is recommended to soften the top and bottom of edge
Suitable for Quartz
Full Bullnose
Double Bullnose
Triple Laminated Bullnose
Ogee
Miter
Recommended for Supernatural design. The top radius should be 3mm
Suitable for Quartz and Porcelain
Double Radius
Laminated 7mm round top and bottom
Suitable for Quartz
Pencil
7mm recommended
Suitable for Quartz
Eased
3mm recommended
Suitable for Quartz and Porcelain
It's easy to care for your Caesarstone worktop.
Simple cleaning – A splash of warm soapy water will do.
Prevent patina – Wipe away any liquid spills and splashes, which may be more noticeable on dark surfaces.
Cleaning products – Cream-colored cleaning products are not recommended. Check on a hidden area before use.
Scratch Resistivity – Always use a cutting a board and clear away sharp objects.